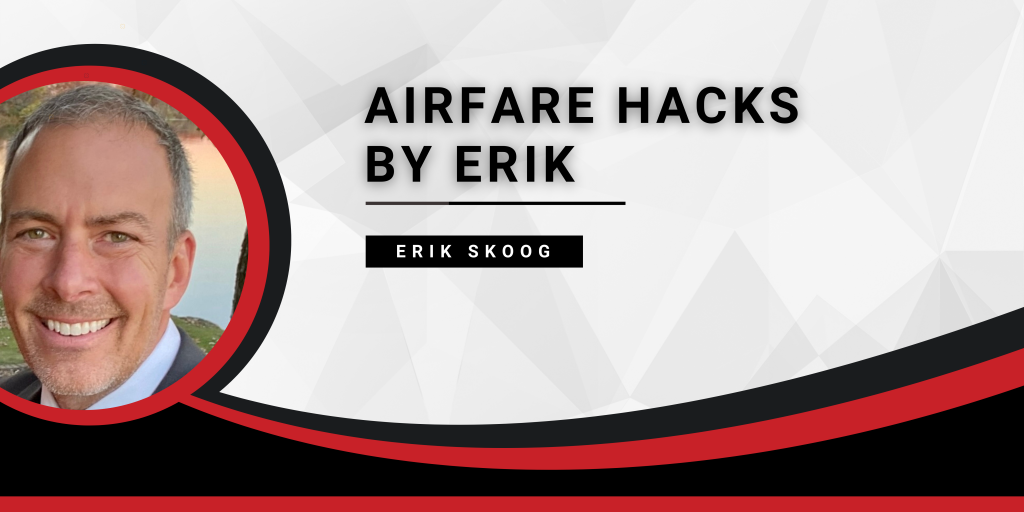 Erik Skoog, one of Centrav's owners, has had his fair share of travel experience, both domestic and international. From managing the travel of celebrities to managing giant airfare brands like Centrav, Erik has learned a few tips that he would like to share with travel advisors as they navigate the perilous world of air travel.
Legal airfare hack #1: Using an airline's waivers to your advantage
Last night I was in the precarious situation that many travelers have found themselves in this year: My flight was canceled. Well, it was actually showing on-time until 40 minutes before departure, then it magically became a 3 hour delay….and ultimately canceled altogether an hour later.
Unfortunately, this has been a very common occurrence in 2022.
I live only 20 minutes from the airport and NEVER check luggage, so I usually don't head to the airport until an hour before my flight. And, I typically check the FlightRadar24 app for a status on my incoming flight (all airline apps now give the incoming flight number – use it and see where the actual aircraft is).
This time I saw my incoming plane was in New Mexico and scheduled to arrive on time while I was on my way to Phoenix's Sky Harbor Airport.
In the little time it took for my Uber ride to shuttle me to the airport, an incoming dust storm had caused a ground-stop at the Phoenix (PHX) airport. So, my aircraft was diverted to Las Vegas. It was then delayed 3 hours and eventually canceled. Back in the Uber and back home I went.
But I'm not writing this article to vent about my personal bad luck….instead let's talk about an airfare hack. We can use my trip as an example.
My flight from PHX to MSP was canceled, so I submitted that ticket for a 100% refund–as that is the airline policy.
I needed a flight out the next morning and the 9:36am flight on Delta would be perfect except for the astronomical price of $959. Conversely, the $559 rate seemed reasonable for a close-in departure, but I was not interested in taking a 6:30 am flight and the 11:30 am flight was too late. The image below shows what my options looked like on Delta:
It looked like I was going to have to shell out $959 due to no fault of my own. However, I knew that Delta allows its Medallion members to have a "Same Day Confirmed" waiver. For Main Cabin, the original fare code must be available to change flights, however for flights purchased as BizOne/First Class – this is ANY BOOKING CODE – last seat available.
I booked the 6:30 am flight and while checking-in on the Delta Air Lines app – I requested a "Same Day Confirmed" waiver to the 9:36 am flight. The Delta app processed the change, I grabbed a seat assignment, and BOOM–I just booked a $959.00 ticket for $559.00… And it was all LEGAL.
Don't believe me? Here are the details: https://www.delta.com/us/en/skymiles/medallion-program/medallion-benefits
And the Fine Print: (6) Same-Day Confirmed: As a Diamond, Platinum or Gold Medallion Member, you may request a same-day change to your itinerary and be confirmed at no extra charge, To make a same-day confirmed change when booked in Main Cabin your original fare class must be available. To make a same-day confirmed change when booked in our premium cabins — including Delta One®, First and Business Class — you may make a same-day confirmed change as long as a seat is available. Your new departure time must still be on the same day as your originally scheduled departure.
How can I learn to do cool stuff like this?
First, take Centrav Academy's course to learn the basics of selling airfare. Once you thoroughly understand the basics, you can start diving into the fare rules. And start Traveling! The more you fly and experience air travel, the better equipped you will be to help your clients. And finally, watch our blog for more Airfare Hacks by Erik. When it comes to airfare hacks, we think he's a genius!