Editor's note: We love to travel, but the safety of all travelers is our number one priority. Centrav recommends following all travel guidelines recommended by health officials and the State Department.
As people grow tired of being stuck at home during the COVID-19 pandemic, many are already planning their next getaway. It may be a bit harder to plan a trip outside of the U.S. in the immediate future, but domestic travel seems like a strong alternative. Summer will likely see a surge in travel within these beautiful and amazing United States of America. Until borders and embassies are reopened worldwide, Americans will likely try to satisfy their travel bug domestically.
If your clients are itching to start traveling ASAP, have them check to see which states are reopening. Be mindful of closures so your clients will still have an unforgettable and wonderful experience. This way you can be sure there is a wide variety of restaurants, parks, and memorable sites open once your client gets there.
The states that are opened/closed: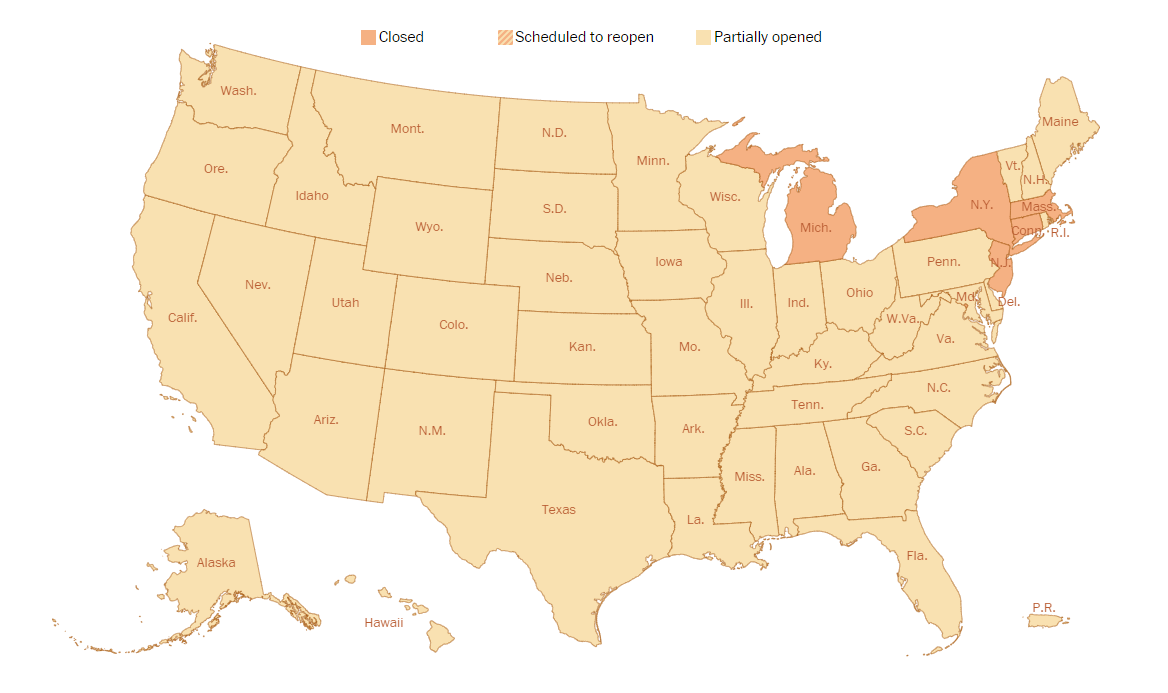 Tips for choosing a domestic destination
Research whether your destination has requirements to self-quarantine or stay-at-home orders.
Even if you're free to move around–restaurants, beaches, and other businesses might be closed. This could leave your traveler with limited options for meals and things to do. Check the local governor's website or for a quick reference check out this map.
Choose destinations with lots of public parks and beaches.
Many states have restrictions on restaurants and other businesses, but not public parks and beaches. This is a great option for your traveler who loves the outdoors. Consider destinations like Colorado, Alaska, or Florida.
Check with hotel vendors to make sure pools and other public areas are open.
Many hotels and vendors are open but their pools and breakfast buffets are not. Make sure to check in with the hotel and call them regularly leading up to your client's departure to make sure your clients are prepared.
Does your customer's hotel suite have a kitchen?
If the destination your clients are going to has limited restaurants open, make sure their accommodations have options for them to make their own meals. Grocery stores are deemed essential so all your client needs is a kitchen.
Avoid the highly populated states for a while
States like New York, California, Massachusetts, Washinton D.C., and Washington state are all highly dense areas and coincidently are the only states among a few others that are closed still. Even if you plan a trip farther in advance, these cities will most likely have limited options for your travelers to enjoy.
Research the airline you're flying with to see what their requirements are
Some airlines are requiring passengers to wear a mask aboard the aircraft. Make sure all requirements are communicated to your clients so they are prepared for the journey.
Based on the states that are reopened, we've gathered our quick recommendations for states your clients could consider traveling to:
Florida
Alaska
Montana
Colorado
South Dakota
South Carolina
Texas
As always, proceed with caution when helping your clients travel after the pandemic subsides. Make sure your clients feel safe and are willing to travel. We will all be traveling again soon!
To see the reopening of the globe check out this link.