Holiday travel: Expectation vs. Reality
Our expectation of heading home for the holidays is one that anticipates the fun, relaxation, and joy of being surrounded by the people we love. The reality for most families is that holiday travel often feels a little bit more like this: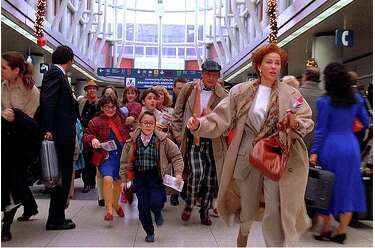 Don't let your travelers' airport experience look like a scene from Home Alone. Make sure your clients are covered — by you — this holiday season and help them avoid some of the most common holiday travel mistakes along the way.
How to avoid holiday travel mistakes
1. Book early
If your clients are considering a trip during the holidays, urge them to lock in their airfare as quickly as possible. Airline seats are snatched up fast as the holidays approach and even the difference of a day or two can result in a huge price increase.
2. Encourage flexibility
Some of the busiest days for holiday travel are the Wednesday before Thanksgiving and the Sunday after. It's just what makes sense when scheduling time off for work. Encourage your clients to be as flexible as they can, and avoid these days if possible. If prices for their requested itinerary are exorbitant, offer an alternative airport. They may be willing to spend some extra time driving if the price is right.
3. Leave plenty of time between flights
Nobody wants to spend hours waiting at the airport between flights. However, you don't want your clients' connections to be so tight they are running between gates. Funny things happen around holiday travel. Airports are full. Weather is unpredictable. Schedules change. Give them the extra peace of mind by making sure they have plenty of time to make their connecting flights.
4. Inform them of baggage policies
Baggage fees have been on the rise this fall, hitting an industry high of $30 per checked bag. JetBlue raised their fee just before Labor Day, followed closely by United and Delta. Inform your travelers of baggage fees as they finalize their plans. If they are traveling with gifts or extra items, it may be cheaper for them to ship these to their destination ahead of time.
5. Watch out for Basic Economy
This sneaky little fare looks great as far as price is concerned. But hidden in the fine print are restrictions on… well, pretty much everything. Basic Economy usually includes restrictions on carry-on baggage, upgrades, changes, and boarding. Typically, you will not be able to select your seat assignments ahead of time. Those willing to pay will grab the good seats and you will get stuck in a middle seat at the back of the plane. It can be a good option for a solo traveler with little baggage. But for families, it can be a major headache. The Centrav booking tool allows you to filter out all Basic Economy fares if needed. Simply click on the drop-down for "Advanced Options" and check "Exclude Basic Economy Fares."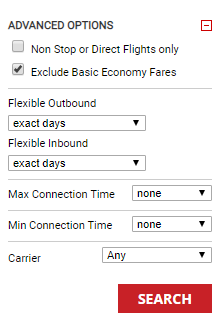 6. Get travel insurance
During the holiday season, it is more important than ever to make sure your travelers are covered for the unexpected. Always offer them a travel protection policy to help out with trip delays, missed connections, and lost baggage. Talk to one of our agent support team members about our travel insurance options today!
Make sure their holiday travel is covered — by you!
You know what your clients need and you've always had their backs during an emergency. Let them know you are there to help out with every ticket — even those little domestic trips.
1. Work it into conversations
Whether you're following up from their summer trip to Europe or already sending quotes for spring break, it doesn't hurt to ask about the holidays! Work this into your phone and email conversation, "Can I help you with any holiday travel?" You can make a quick commission and protect your clients from the risks of booking through a large, "discount" site.
2. Send an email reminder
If your agency sends out regular email campaigns, don't forget to send out an early reminder for holiday travel! Keep it fun and simple, and let them know you are there to help them with all of their travel needs.
3. Show your gratitude
It's the time of the year to thank your clients for their loyalty. For some, an email thank you or thoughtful, hand-written note is great. If you're looking for something really special, check out our guide to creative corporate gifts. Simple gestures showing your appreciation really do make a difference!