New Facebook rules may hurt small businesses
In January of 2018, Facebook released a new algorithm that limits business pages' organic display of content. You might have seen this as a positive change if you were feeling frustrated by the content of your newsfeed. However, this has some negative implications for small business owners, like travel agents. What it means is that only a small percentage (most likely less than 10%) of your followers are actually seeing your posts. Again in May of this year, Facebook released yet another update to fuel the fire for businesses. Facebook prioritizes content posted from friends over publishers, with a focus on "meaningful interactions."
Since the data controversy that got Facebook in hot water, Facebook is trying to improve their transparency — which has increased their value on personal interaction with the recent update.
"Pay to Play"
Let's say you found a great Facebook page called "Jane's 20-Minute Meals". You love the recipes and they work great for your busy schedule (because let's be honest, travel agents never clock out). So you like "Jane's 20-Minute Meals" because you want to see those recipes! Thanks to Facebook's new algorithm, Jane will probably have to pay money to let you see, not an ad, but the content you willingly opted to follow in the first place.
This is why you might feel like your business page never seems to get any interaction, despite the fact that you have hundreds or even thousands of people following. One good thing about the recent update in May of 2019, is Facebook identifies content that is meaningful to users. So if you engage frequently with "Jane's 20- Minute Meals" meaning you like, comment and share her posts–her content will pop up more in your feed. But you have to remember to engage with it. So how do you beat Facebook's restricting algorithm and deliver content to your followers who don't necessarily comment on every single post?
7 ways to outsmart the Facebook algorithm
1. Pay to boost posts
When it comes to boosting posts, consistency is key. Facebook rewards accounts that consistently boost their posts. Don't feel like you need to spend outrageous amounts of cash on posts — start with $5 per post and work your way up. As you consistently boost posts, you will start to see your engagement increase. Facebook also places value on content that performs well organically. So if you are debating on which post to promote–check to see which one already has some engagement.
2. Keep your personal accounts
Small business owners often make the mistake of combining their personal account with their professional one. Keep separate pages for yourself and your travel agency. This is particularly important when it comes to Facebook. By keeping both accounts you can use your personal account to share content from your business page and boost engagement. Encourage the rest of your staff to engage with their personal accounts as well.
3. High-quality content
Post high-quality wanderlust content that keeps your followers longing for distant places.
As a travel agent, you have high standards for what kind of experiences you offer your clients. You'd never offer them a low-quality hotel or recommend a restaurant with terrible reviews. Your social pages provide the first impression of your brand. So hold your social media output to the same standards you have for everything else you offer. Post high-quality wanderlust content that keeps your followers longing for distant places.
4. Use video content
Across all social media platforms, videos are king. Videos tend to generate the most engagement above all types of content shared. In fact, video content receives 1200% more shares than text and image content combined. Why? Videos catch our eye and require very little effort from the viewer to absorb the information.
But I can't afford a video production team or fancy equipment!
You don't need it! Obviously, it would be amazing if you could. But with some careful research, a phone, and some editing apps you are on your way to creating great video content. Need some direction? Here are some tips on creating video content to get you started.
5. Start using UGC
UGC (or user-generated content) refers to any type of content (photos, videos, tweets, etc.) created by your followers about your brand. You already know the importance of customer referrals in building your brand credibility. Think of user-generated content as a free, easy tactic in your referral program.
#ShareaCoke
One of the most famous examples of UGC might be Coca-Cola's Share a Coke Campaign. Coca-Cola simply slapped 250 of America's most popular names on their Coke bottles. Suddenly they had us impulsively buying Cokes just because we saw a familiar name in the check-out lane …and sharing pictures of our drinks on social media. That's one for the marketing hall of fame!
How can you use your clients' vacation photos and videos in your social strategy? Could you do a photo contest? Or maybe it's as simple as asking your favorite clients if you can share a favorite video or travel memory from your page.
6. Let engagement go both ways
Respond to all of your engagement on social media. Make sure you are at least liking your followers' comments and replying where appropriate. Don't shy away from responding to negative feedback. Use it as an opportunity to fix a poor experience and build trust with your current and future customers.
7. Be an expert, not a salesperson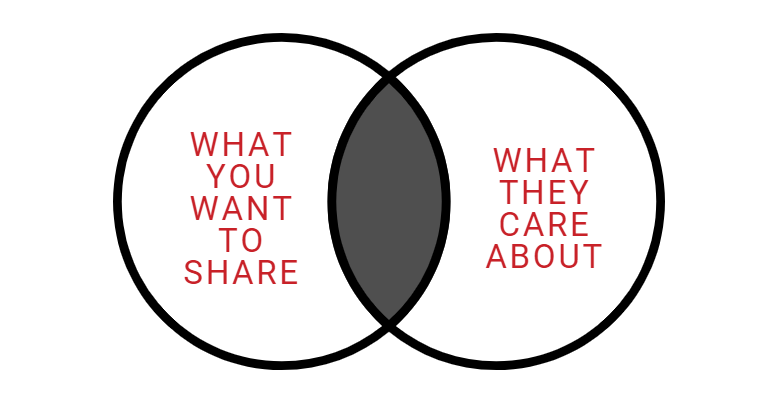 This is another common mistake small businesses make with their content. It's easy to fall into the trap of letting all your content be about your company: your sales and promos, your products and services… your long history of outstanding customer service. There's a place for a sales pitch, but it's probably much, much less often than you think.
In order to keep your followers' attention, you need to provide content that adds value.
In order to hold your followers' attention, you need to provide content that adds value. For the travel industry, this includes two things: information and inspiration. Travelers look to you as an expert in travel. So be one! What knowledge can you pass on to clients? Travel hacks, how to avoid tourist scams, packing lists, destination guides… Provide your followers with detailed, insider information and you'll keep your engagement high.
Looking for more ways to outsmart the Facebook algorithm? Make sure your content is shareable! Check out these questions to ask yourself before posting in our guide: Creating Shareable Content For Your Travel Agency.