According to the U.S. Department of Homeland Security, President Donald J. Trump signed a Presidential Proclamation that suspends the entry of foreign nationals who have visited European countries within the Schengen Area.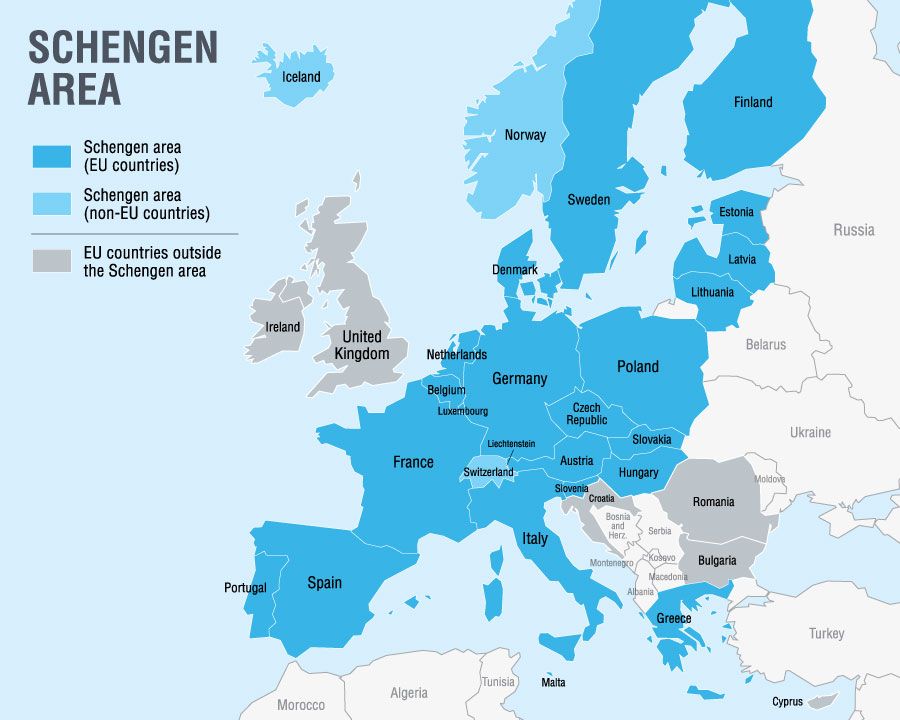 Which countries are affected by the new travel suspension?
Suspended travel includes the 26 Schengen countries.
The official list of Schengen countries include Austria, Belgium, Czech Republic, Denmark, Estonia, Finland, France, Germany, Greece, Hungary, Iceland, Italy, Latvia, Liechtenstein, Lithuania, Luxembourg, Malta, Netherlands, Norway, Poland, Portugal, Slovakia, Slovenia, Spain, Sweden, and Switzerland.
Travel restrictions from these areas apply to those who have visited one of the above countries within 14 days of their intended arrival to the United States.
How long will the Schengen travel suspension last?
According to the Presidential Proclamation, the European travel ban will last 30 days, starting on Friday, March 13 at 11:59 PM (ET).
Does the travel restriction affect the return of U.S. citizens?
No. The Schengen travel restriction does not apply to lawful, permanent residents of the United States. Schengen Travel restrictions are also waived for spouses and close family of lawful, permanent U.S. citizens. You can read the official proclamation for a complete list of exemptions.
Can traveling U.S. citizens return earlier than planned?
Yes! Most airlines are offering a waiver for free schedule changes. Rescheduling and rebooking are based on airline availability. Check with your airline to see what accommodations are available.
Will travelers be put into quarantine upon arrival or return to the U.S.?
According to the latest news, only those who are returning from a Level 3 territory, as listed by the CDC, will need to home quarantine upon their return.
Can my clients refund their airfare?
If your originally scheduled flight is canceled, there may be an opportunity to get a full refund.  Most airlines are still processing free changes. However, non-refundable tickets are still non-refundable. Check with your airline to find the best option for your travelers.
Will the Schengen travel suspension affect international trade?
No. As of now, the Schengen travel suspension only applies to international travelers and not transported goods or cargo. Studies show that COVID-19 is spread through contaminated water droplets, such as sneezing and coughing from a sick person.
The World Health Organization (WHO) believes COVID-19 acts similarly to other coronavirus and states, "the likelihood of an infected person contaminating commercial goods is low and the risk of catching the virus that causes COVID-19 from a package that has been moved, traveled, and exposed to different conditions and temperature is also low."
What else should I know about the Schengen travel suspension?
The U.S. Department of State issued a Global Health Advisory on March 11, 2020, and encourages U.S. citizens to reconsider travel abroad due to the coronavirus outbreak. Visit travel.state.gov for current travel advisories and country-specific information on COVID-19.
The Department of Homeland Security will provide the latest information on travel restrictions to the U.S. You can sign up for email updates, so you don't miss the most current press releases regarding coronavirus travel restrictions.
The CDC lists helpful guidelines to prevent the spread of COVD-19. The CDC also answers commonly asked questions regarding the coronavirus and provides information for travelers amidst the coronavirus outbreak.
To change your booking
The good news is you can now edit your client's bookings online through our new, easier process. Click here for a Step-by-Step Guide on How to Change Your Booking.