Answer: If your client has an air ticket, but is not traveling in March or April… DON'T change or cancel it yet.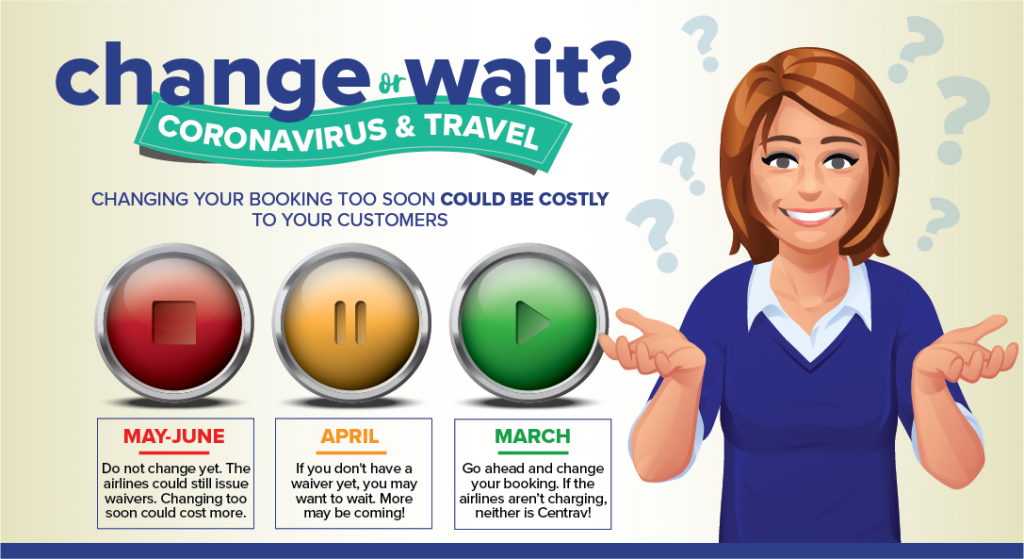 Why should I wait to change or cancel my ticket?
Airlines are not offering waivers for changes beyond April travel, but it is likely that they will offer a waiver for free changes as you get closer to departure.
Airlines are changing their schedules frequently right now. If they do a major schedule change, it is likely that you will get a FULL REFUND.
Airfare prices are in a decline.
How can this make me look better to my client?
Your client could pay a lot to change your ticket now when it is likely to be free if you wait.
Your client could cancel for a steep penalty now, but if you wait, there is a very good chance they will get a full refund.
It's tempting to take advantage of some of the reduced pricing on airfare right now. But if your clients can wait, airfare prices will likely be even lower. Your client could end up paying only slightly more than their original ticket price to travel in high season!
But my client says they can get cheaper flights by canceling?
Your client is seeing all of the flight prices dropping and they want to get a cheaper price. Any penny pincher would love to get these prices, but it's better to be patient. If your client canceled now they would not get a waiver. Therefore they would end up paying more money in the end to get that "cheaper" flight.
If your client still wants to change or cancel their ticket
If your client still wants to change or cancel their ticket despite your advice you can now use our new tool instead of calling. By doing this, you will ensure we can assist with your request as quickly as possible.
REMINDER: PLEASE ONLY SEND ONE REQUEST or you may cause confusion and/or delay on your booking.
All requests are handled in departure date order. At this time we are only working requests for travel within 14 days from today.
Remember you're the travel expert
Although travel crises don't come around too often, you know how the airlines work and YOU'RE THE EXPERT. As the coronavirus hysteria calms, Centrav sees this as an opportunity to showcase your airfare travel knowledge to your clients. Making lemonade out of lemons right?