Download the infographic to learn what you can do.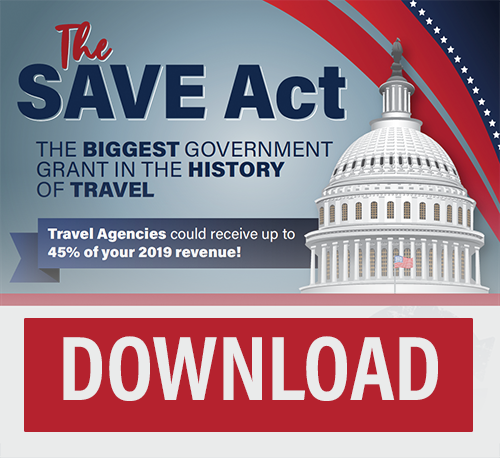 Travel agencies could receive up to 45% of your 2019 revenue.
About the SAVE Act
On March 23, Reps. Mark Amodei (R-NV), Charlie Crist (D-FL), Bill Pascrell (D-NJ), and Dina Titus (D-NV) introduced the Securing Access for Venue Equity (SAVE) Act (H.R. 2120), which would make travel agencies and other hard-hit businesses eligible for the Shuttered Venue Operators Grant program. Under this program, applicants can qualify for grants equal to 45% of their 2019 gross revenue, up to $10 million.
What Does This Mean for Travel Advisors?
If you made $100,000 in commissions in 2019, then you could get a check from the government for $45,000!
What you need to do to get this bill passed…
1-Use this link to find your representative
2-Call and tell them your story. Follow up with a quick email.
3-Ask them to Co-Sponsor H.R. 2120
4-Tell all of your colleagues, clients, employees, anyone you can, to join in a call as well!